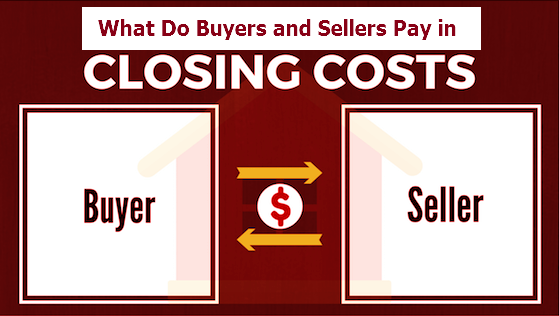 When it comes to selling a home, both buyers and sellers have closing costs. While it is the buyer that faces more expenses, the seller is responsible for paying the commission

Home buyers generally pay between 2% and 5% of their purchase price, which includes expenses such as closing fees, appraisal fees, insurance, and processing fees. The sellers also tend to pay more at closing, as they are responsible for paying the real estate agents their commission. On the other hand, the sellers can expect to pay about 5-10% of the selling price in closing costs compared to the buyer, although this varies by location.

Sellers Costs
The real estate commission is based on a percentage of the total selling price, so it tends to be the biggest cost paid at closing. Aside from the commission, sellers may have to pay or customary split the following fees with the buyers:
– 1/2 of the Owner Policy Premium for Title Insurance
– 1/2 of the Escrow Fee
– Conveyance Tax
– Title Exam
– Deed Preparation
– Real Estate Commissions
– Tax Proration

Buyers Costs
Most buyers are getting loans to make the home purchase, and there are also other charges that stem from the loan. Below are also the costs buyers have to pay or customary split with the sellers:
– 1/2 of the Owner Policy Premium for Title Insurance
– 1/2 of the Escrow Fee
– All Recording Fees for Deed and Mortgages
– Title Commitment
– Survey Fee if the purchase is financed
– Lender closing costs is the purchase is financed
If you are a home buyer, make sure to go through these fees line by line with your mortgage professional and understand exactly what they are and how they are going to apply to your loan.

A buyer should also receive a loan estimate form early in the sale process. This document lists out all of the approximate costs and shows what the buyer will face when making the purchase, so there aren't any surprises for unexpected fees at closing. Some buyers use the information on the loan estimate form to shop for different lenders, interest rates, costs and market comparisons.

Aside from loan expenses or buying a home, there are also costs for property taxes or homeowners association dues – pro-rated and paid at the time of closing. The same is true for pre-paid loan interest. If you close towards the end of the month, the lender may ask for the first month's payment up front.

Estimating Costs
It is expected that a buyer and seller show up to the closing with knowledge of exactly what their costs of sale will be. In fact, based on the mortgage loan amount of the purchase/sale price, it's not hard to estimate the buyer's and seller's closing costs.
It is advisable that before you get too far into the process of home buying, ask and consult your real estate agent or mortgage professional for an estimate so you know your costs pretty close to the penny.

Negotiating Costs
Coming up with an extra 2-5% towards closing costs can be difficult. One option to minimize that burden is to ask the seller to pay buyer closing costs. It may be helpful because that is out of pocket cash that you do not have to bring to the table. It is also important to understand that if a seller is paying your closing costs, they are likely considering your offer less any extra costs so your offer is actually lower in the seller's eyes.

For more home tips, check out our blog for more information! Be sure to follow us on Facebook at Cleveland Homes for more real estate updates, tips and tricks!