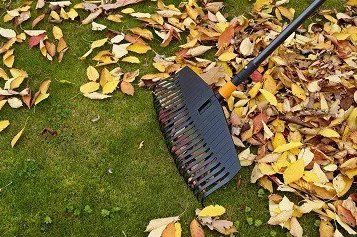 Fall is here once again and now is the perfect time to take care of big home repair projects. If you do live in an area with cold winters, take some time this fall to boost energy efficiency throughout your home and prevent damage from winter storms with proper home care. (We spoke with an expert to find out what you need to do!) Tick these items off of your list this season, and you can rest easy knowing that your home and yard are buttoned up and ready for winter.

1. Clean Radiators, Baseboard Heaters and Grates
Get ready for heating season by clearing away dust and grime from radiators, baseboard heaters and heating grates. If your radiators have removable covers, take them off and vacuum beneath the cover before replacing.
2. Test Outdoor Lights
During the fall season the days get shorter and we rely mostly on exterior lighting, both for safety and ambiance. Test lights on the front and back porch, on the garage and in the yard, and replace bulbs as needed.
3. Protect Plumbing
Protect your pipes from freezing temperatures. Shut water off to exterior faucets before the weather dips below freezing. Drain hoses and store them indoors.
4. Stock Up Supplies
Fall is the time to prepare if you live in a colder region. Check and restock emergency kits for your home and vehicles. Check the condition of snow shovels, ice scrapers and snow blowers; replace as needed.
5. Rake Leaves, Care for Trees and Shrubs
Leaving too many leaves on a lawn over winter in a snowy area can hinder plants to grow when spring comes. Choose a lightweight rake to make the job easier, wear gloves to protect your hands and use leaf scoops to bag leaves quickly.
Consider hiring a landscape expert to care for your trees and shrubs to avoid falling limbs in winter storms. One of the most important maintenance tasks for a homeowner to complete in the fall would be trimming dead parts of trees. This is because trees are going dormant at this time, and they are less likely to acquire a disease.
6. Deep Clean the Kitchen
Take a day to work on a cleaning task that requires more effort like keeping your kitchen clean and efficient.
Wash the walls and backsplash
Clean light fixtures
Degrease the range hood and filter
Clean the refrigerator, oven and appliances
Wash the garbage can and recycling bins
Scrub tile group
7. Exterior Repairs
Take a walk around your property and look for signs of damage to the roof, gutter, sidings and foundation. Schedule any necessary repairs before the winter.

8. Conduct an Energy Audit
Assess your home's current energy efficiency and add insulation or weather stripping where needed. You can also find instructions for a do-it-yourself energy audit at energy.gov or hire an expert.
Check our Top 10 To-Do's in September for Homeowners for additional colder weather tips or for more home tips, check out our blog for more information! Be sure to follow us on Facebook at Cleveland Homes for more real estate updates, tips and tricks!